This was inspired by Hilary Parker & Roger Peng's Not So Standard Deviations Episode 28, which can be found here. It was suggested that it would be useful to lay out Hill's criterion for data scientists, I agree!
[causation: An event or outcome B is influenced by a change in A]

Sir Austin Bradford Hill, a statistician and epidemiologist, created a list of guidelines for evaluating whether there is evidence of a causal relationship.[1] He determined the following aspects of associations ought to be considered when assessing causality. When thinking about this problem, an xkcd comic I have seen in every lecture on this topic came to mind: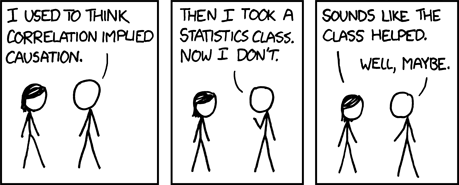 This inspired me to attempt to explain Hill's criteria using xkcd comics, both because it seemed fun, and also to motivate causal inference instructures to have some variety in which xkcd comic they include in lectures (bear with me, some of these are a stretch 🙈💁🏻).